Alice Stolz, Domain's National Managing Editor, The Block fixture and resident property aficionado, shares her insights each week as a columnist for Nine Property.
Initially, I thought it was just me. Having completely inhaled Anatomy of a Scandalthere was one thing I became utterly obsessed about, and it seems I'm not alone.
This week, everyone from my hairdresser, to my sister and even the lady in the dog park, has been talking to me about wallpaper. People are in forums on the internet trying to find certain styles from the series.
The divine and ever-so-chic London home of the main characters, James (Rupert Friend) and Sophie (Sienna Miller) is nothing short of sublime.
READMORE: Beautiful Tamborine Mountain country estate for sale
The house itself is in fact a set (yes, I tried to track it down such was my obsession), but it is the endless wallpaper used artfully throughout which absolutely steals the show.
If you're not a fan of covered walls, stay with me. I'm not talking about the dreadful types of wallpaper from a bygone area that can leave one feeling almost seasick.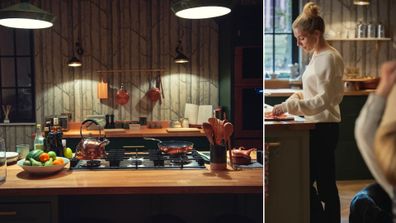 Wallpaper, used cleverly, can be your friend. It is relatively inexpensive and it can take a room from being decidedly missable to being a true show stopper, for all the right reasons.
It avoids the question of how to add impact to generic spaces that are too often painted white – a textured off-white or cream wallpaper will work a treat. And if you're on a tight budget, it can also remove the need for art and other hero pieces.
The wallpaper seed had been planted in my mind some months ago, when I came across a fabulous and captivating space by Australian interior designer and stylist, Simone Haag.
READMORE: Elle Macpherson lists $40 million Florida mansion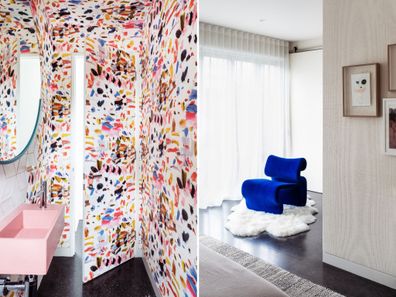 For as beautiful and serene certain wallpapers can make a space, it can also be absolutely crazily fun as well. Haag plastered the most mad and fabulous wallpaper over every conceivable space in a small powder room on a recent project.
"Wallpaper can really amplify a space. It's one of those terms that used to be considered a bit old-fashioned and floral," says Haag.
"But it's actually something that has really shifted. In particular, in Australia we have added our own spin to it, and now use it in such a way that it is really graphic and interesting."
It is, of course, all about knowing your limits. Haag had one client with whom she put forward a wallpaper for the bedroom ceiling of sketches of people in all sorts of sexual positions. "The husband shut it down!"
If, like me, you are curious to embrace this wallpaper revival, Haag cautions we have most definitely moved away from having just one feature wall of wallpaper.
"If you're going to go for it, go hard or go home."